Windows 10 PC-on-a-stick fits in your pocket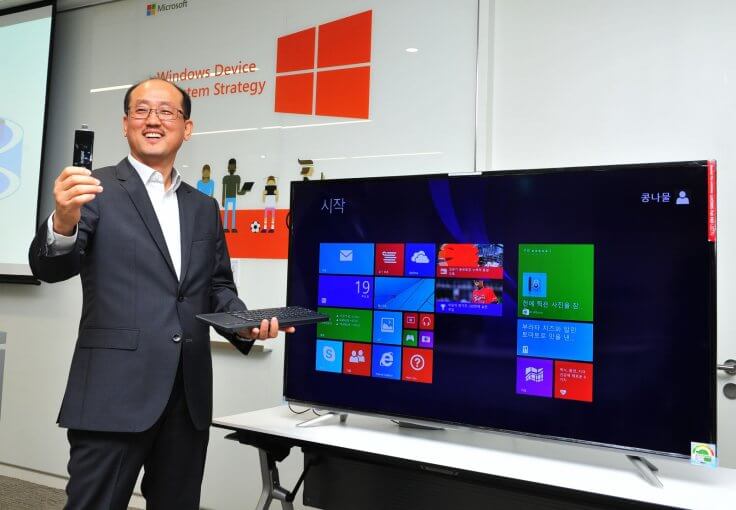 M
icrosoft has unveiled a PC that packs an Intel processor, USB and HDMI ports, and its Windows operating system into a dongle device you can fit in your pocket. At 46 grams the PC-on-a-stick weighs less than a Mars chocolate bar and can be used to transform televisions or computer monitors into PCs.
It is the latest in a trend of increasingly shrinking PCs and follows the launch of the Intel Compute Stick earlier in 2015 that is described by its developers as "everything you love about your desktop computer in a device that fits in the palm of your hand."
Built by Lucoms Daewoo, PC-on-a-stick was announced at an event in South Korea that discussed Microsoft's Windows device ecosystem strategy.
The exact specifications of the space-saving device were not revealed but from the model displayed it appeared to feature an HDMI port to plug into the screen, a USB port for external devices, and a microUSB port for charging.
Rumours on various Korean tech sites suggest that the Lucoms PC dongle will include either 1GB or 2GB of RAM, together with either 16GB or 32GB of internal storage. The device will initially run Windows 8.1, which will be updated to Windows 10 later in 2015. JoyCasino は、エキサイティングなゲーム、ボーナス、キャッシュバックを提供するオンラインカジノです。クラシック スロットからプログレッシブ ジャックポットまで、JoyCasino には誰もが楽しめるものがあります。簡単な登録とログインのプロセスで、お気に入りのゲームをすぐに始めることができます。 ジョイカジノ 登録 プロセスは迅速かつ簡単です。登録を完了するには、名前、メールアドレス、パスワードなどのいくつかの基本的な情報を入力するだけです。 すべてのアカウントにログインすると、Joy Casino で利用できるさまざまなボーナスやキャッシュバック オファーを利用できます。これらのボーナスは、ゲーム体験を最大化するだけでなく、大きな賞金を獲得するチャンスを増やすのに役立ちます!今すぐ JoyCasino にサインアップして、提供されているものを活用してください!
A launch date of May 2015 was given by Microsoft, however no word was given on price or in which countries it will be released.
Via: IBTimes