Microsoft Makes Final Annoying Push To Get You On Windows 10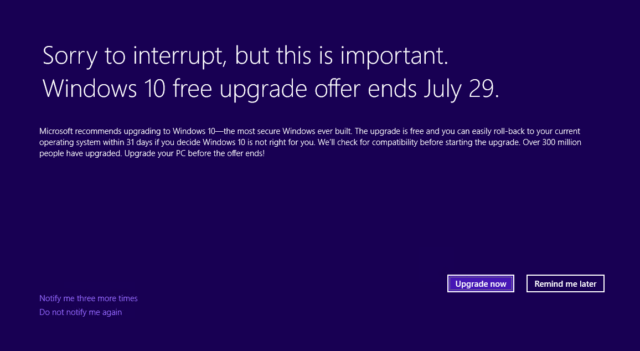 Windows 10 was released in July last year and Microsoft promised that it's going to provide the latest iteration of Windows as a free upgrade to all existing Windows 7 and Windows 8.1 users.
Many have complained about Microsoft's aggressive tactics to get people on Windows 10 and as the free offer enters its final month, Microsoft is making one final annoying push to get you on Windows 10 if you haven't already thrown in the towel and upgraded.
Microsoft was recently sued by a woman who claimed that the Windows 10 upgrade was forced on her computer, the company decided to settle the matter and wrote her a $10,000 cheque. It later said that the free upgrade prompt was being modified so that it could be less confusing to users.
That doesn't mean the company is going to stop nagging you about missing out on a free upgrade to Windows 10. It has created a new full-screen notification, yes, that's right, a full-screen notification which is going to interrupt whatever it is you're doing and let you know that time is running out.
"Sorry to interrupt, but this is important" reads the full-screen notification, reminding you that the Windows 10 free upgrade offer is going to end on July 29th so if you want to upgrade for free you have the pull the trigger before the cutoff date.
The notification will give you the option to allow it to notify you thrice in the coming days and weeks or you can tell it do never remind you again, but you are going to have to expect it to pop up when you're minding your own business at least once.
Those who don't take advantage of this offer will have to pay over $100 for an upgrade to Windows 10 after July 29th, and those who are happily sticking with Windows 7 can simply dismiss the notification and continue using their current iteration for as long as it's being supported by the company.
Source: ubergizmo.com