First look at Microsoft's brand new 'Spartan' project for Windows 10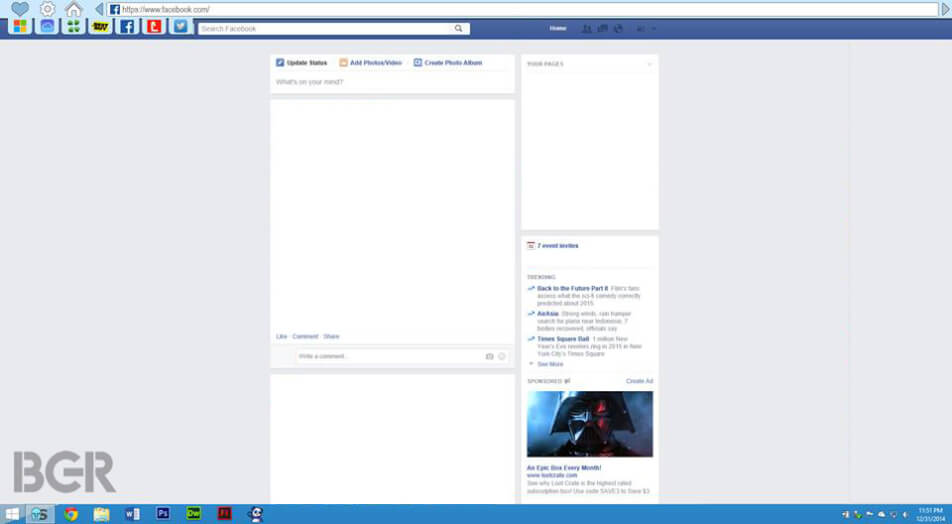 A few days ago, a report revealed that Microsoft is secretly developing a special new web browser for Windows 10 dubbed Spartan. The company is looking to offer users a different Internet surfing experience from Internet Explorer, though it's not clear whether Microsoft will unveil the new program at its Windows event scheduled January 21st. However, since then a source exclusively sent BGR an image showing the Spartan browser in action, alongside some information about this particular new project.
The screenshot above shows a slightly older beta version of the Spartan browser loading a Facebook page. The browser appears to have a minimalistic design, featuring clear, straightforward and clutter-free UI elements.
According to the source, Microsoft assigned a special team to work on Spartan in September, with the team working non stop on the new design since then. A third redesign was completed by Christmas, with the image above belonging to the second version of Spartan, dating back to early November.
More interestingly, Microsoft's new browser is said to come with some amazing new features that should further improve the Internet browsing experience. Apparently, Spartan will let you speak entire voice commands such as "add to favorites, "make that my home homepage," or "go to Facebook.com."
Previous reports said Windows 10 will also come preloaded with a version of Microsoft's voice-based virtual assistant, Cortana, that will let users perform various actions on their desktops and laptops using their voice similar to Windows Phone devices.
Additionally, we are told Spartan will also be able to run different browsers inside it, "with the push of a button." For example, users could split the browser into four windows that would be showing them four different ways to seeing a website or online application, as long as those browsers are also installed on the same device.
Finally, Spartan is indeed the codename for the project, and our source declined to provide us with the final marketing name for it.
When reached for comment, a Microsoft spokesperson told BGR the company has nothing to share on the matter at this time.
VIA BGR